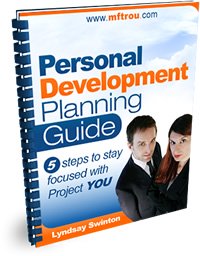 Good personal development planning will help you achieve your potential as it will help you identify skills gaps and improvement areas. Then you'll be able to get that job, go for that promotion, build your business further, or whatever you want.
This guide will give you a simple yet powerful method to grow and so enable you to achieve more, faster, and more effectively.
Personal development planning can be daunting, but with the right approach, it can be highly satisfying, and even fun! Use this guide with built-in template to plan your personal development properly.
If your personal resources don't match your goals and ambitions, it's time for some personal development.
Here's some detail on what the Personal Development Planning Guide covers.
Personal Development Planning Guide Contents
Making dreams into reality
The 10,000 foot view
Phase 1 – What's Your Focus?
Phase 2 – Using the Project YOU planning template
Phase 3 – Review the Project YOU Development Plan
Phase 4 – Implement the Development Plan
Phase 5 – Review progress
Personal Development Plan Template
Avoid dull, unprofitable time by downloading my quick and easy guide – it's only $9.95 – not bad for all those goals you will achieve! Plus…
Bonus: Goal Setting Guide
To sweeten the deal even further, I'll throw in the companion Goal Setting Guide.
If you find that you spend too much time avoiding the things that will bring you the greatest rewards, this goal setting guide will help you focus on what is truly important.
Using a proper goal setting process ensures you choose the right goals to pursue and helps you get there with minimum time and effort.
Get out of that rut, take control and focus on the important things.
Here's some detail on what the Goal Setting Guide covers.
The Goal Setting Guide Contents
Why set personal goals?
Benefits of personal goal setting
Goals and your personal values
Writing your goals
Smartness in goals
Example Goal Sheet.
Background Thinking and Processes Used to Create the Goal Sheet
Results review and link to self assessment
Easy to Print and Read the Quick and Easy Guides are in handy PDF format, which means you can…
Easily print it out to read anywhere!
Quickly find stuff using the built-in search
Simply scroll down to read from your screen!
And it can be yours within a minute! Simply click the button below to pay by credit card. And thanks in advance for your custom!
Lyndsay
"Your PDF and the template really helped me with my PDP and even my manager was very impressed with the template and his words were 'this is EXACTLY what I wanted from you' which is great. It truly made the whole exercise of setting up a PDP a whole lot easier to digest. Thanks again!!"
Zak, Systems Analyst, Rickmansworth, UK

"Thanks Lyndsay for the downloads I made are useful for our goal setting meeting. Your website is one of my favourite bookmarked sites. I get a lot of basic things and important insights for our team at work."
Irwin Quitlong, Instructor in Personal Formation Subjects, Laguna, Philippines