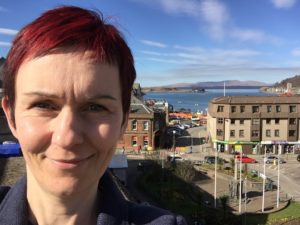 Lyndsay Swinton,
creator of Management for the Rest of Us
Management For The Rest Of Us by Lyndsay Swinton is for people who are new to management or need to fine tune existing skills.
Whether you are a team of one (you!) or lead a larger team, the tips, techniques and resources are all experienced based and get results quickly.
Avoid getting bogged down in management theory and make Management For The Rest of Us your one-stop management shop.
She has earned her spurs in a variety of management environments, from factory floor to tech teams. Lyndsay graduated with a first class honours engineering degree from Strathclyde University in Glasgow, Scotland, in manufacturing engineering and management.
Lyndsay graduated top in class receiving the Institute of Electrical Engineering (IEE) prize for best student, the British Production and Inventory Control Society prize and IEE Sir Walter Puckey runner up prize for her final year thesis on effective industrial organisation.
She went on to complete the Guinness Graduate Training Scheme, designed to get green graduates up to speed fast.
Several years, and two blue chip companies later (The Body Shop and American Express), Lyndsay has gained wide practical experience of people management and motivation, and strategic performance measurement.
She's a Six Sigma Black Belt, so watch out!
Lyndsay is a certified Six Sigma Black Belt (a statistical process improvement methodology) and has a unique combination of people and number skills, making her an expert Performance Manager.
Plus she's a Certified Online Search Professional
Lyndsay recently built on her previous management and business process experience to train and qualify as a Online Search Professional with Marketing Experiments.
From the bottom to the top
Grass roots experience was earned managing a factory shop floor, study was done at top colleges including Ashridge and Uncommon Knowledge, and most recently experience gained working in a complex matrix environment, crossing international boundaries.
Lyndsay has received formal recognition for her leadership abilities, ranked highly against her peers at annual appraisals and most importantly regularly receives glowing feedback from her teams about her human approach to management.
Much of her learning comes from having made her fair share of mistakes and being on the receiving end of poor management. She loves to help others fulfill their potential, and gains no greater satisfaction than seeing a team member surprise themselves with their abilities.
Click here to get monthly management tips straight to your inbox.