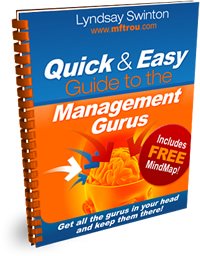 If you're in management, you need to know about management gurus right? This fact-packed 24-page ebook contains all you need to know about all these management gurus in super-concentrated format!
Imagine it, you're chatting to a business colleague at a meeting and they mention Kaouru Ishikawa. You can't remember who he was!!! What did he invent? What were his influences?
Avoid this nightmare by downloading my quick and easy guide – it's only $5 – not bad for all those name-drops you're going to be able to make! Plus…
Free Gurus MindMap!
To sweeten the deal even further, I'll throw in a memory-jogging mindmap with the gurus' names and their major achievements – you'll find this nestling inside the e-book. That way you'll never forget who did what, where and why ever again!
It looks like this…
…only bigger 😉
(By the way, I did this on MindManager – an incredible piece of software for brainstorming and preparing presentations.)
Easy to Print and Read!
The Management Gurus Guide is in handy pdf format, which means you can…
Easily print it out to read anywhere!
Quickly find stuff using the built-in search
Simply scroll down to read from your screen!
And it can be yours within a minute! Simply click the button below to pay using Paypal. And thanks in advance for your custom!