97 ice breaker games you can use for your very next meeting, team building activity or party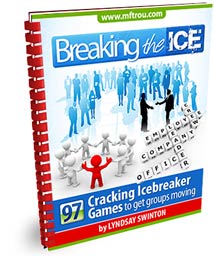 Choosing the perfect icebreaker for a team building activity, meeting, party or other group event can be a stressful business. It's so easy to forget to consider one aspect of the game that might not fit with your participants.
That's why I've arranged 'Breaking the Ice' into categories that allow you to quickly select the perfect icebreaker for your event.
Most managers run group events pretty regularly, and those that get a good reputation are usually the events that are the most fun. If you have half as much fun as my team have had with these icebreakers, you'll be well on your way to being your workplace's favourite event leader!
View Icebreaker Book Index (pdf)
Comes with FREE Ebook on how to choose icebreakers, brainstorming tips and activities and group problem solving
To help you hone your team leading skills, I've included in this gargantuan icebreaker bundle my 'Penguin' icebreaker ebook. This ebook sold for $5 for over 3 years before the new mammoth 'Breaking the Ice' took over. But it's still a super wee book, with lots of group activity tips, so I'm bundling it in with the price. It contains:
– 6 Tips On How to Choose Icebreakers
– Icebreaker Overview for Easy Selection of Games (only in this ebook)
– 5 Icebreaker Games for Small Groups
– 5 Icebreaker Games for Large Groups
– 7 Brainstorming Rules & Techniques To Get More From Group Problem Solving
– 2 Creative Brainstorming Activities for Effective Group Problem Solving
Bonus Classic Game – The Prisoners' Dilemma: Trust and Co-operation!
To sweeten the deal even further, I'll throw in a classic game, including a ready to print and use gaming sheet! A great game for exploring trust and co-operation in teams. Only available in this ebook.
Get your copy of 'Breaking the Ice – 97 Cracking Icebreaker Games to Get Groups Moving', plus your FREE bonus icebreaker ebook and Classic Game below for only $9.95.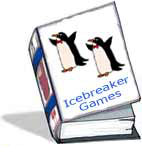 Easy to Print and Read! 'Breaking the Ice' comes as a download in pdf format, which means you can…
Easily print it out to read anywhere!
Quickly find stuff using the built-in search
Simply scroll down to read from your screen!
And it can be yours within a minute! Simply click the button below to pay by credit card via PayPal. And thanks in advance for your custom!